SELECTED POSTERS
" Humans should always evolve to be better global citizens. Artist and designers are uniquely positioned to advocate through Cultural or Social Design, and Creative Activism. With this powerful gift of creativity, conscious artist can become a catalyst for social awareness and protest. However, to be an effective poster designer, understanding this medium is also a lesson in how the human mind see things.

Design professionals can play a positive role because we have the tools to influence. However, we have to be enlightened to the realities around us to do this. Many designers use their creativity to sell corporate products and push their commercial interest, because it is necessary, it is how designers make a living. However, it is also necessary to give back some time, energy and creativity to make a difference in our world. With nothing except our minds and a computer, today we can create sophisticated visual campaigns to build movements to tackle big issues like injustice, poverty and world hunger, or to stimulate the process for changing society. . .

. . . Beautifully designed posters are effective in getting attention. You see it and it it is clear that this design works. A good iconic poster design in my opinion should have balance and beauty. One should get the message quickly even in a foreign language, a piece of art you would like to hang on your own wall. Whatever the message the composition and idea should be harmonious, and the message should never be compromised. Keep the message clear and simple with out-of-the-box creative thinking."

---
WORLD WAR I POSTERS (1914-1918)
"I WANT YOU FOR THE US ARMY" (USA, 1917)


JAMES MONTGOMERY FLAGG (1877-1960)
I Want You for the U.S. Army (1917)
The artist (Flagg) used himself as a model for Uncle Sam.

"SOW THE SEEDS OF VICOTRY" (USA, Circa 1918)


JAMES MONTGOMERY FLAGG (1877-1960)
Sow the Seeds of Victory!
Plant and raise your own vegetables (circa 1918)
Original medium: lithograph, color ; 56 x 36 cm.
Poster for the U.S. Food Administration
Copyright © 2013 collection of Scattergood-Moore

"BRITONS WANTS YOU" (UK, 1914)


BRITONS (Lord Kitchener) WANT YOU (UK, 1914)
Parliamentary Recruiting Committee

"SIDE-BY-SIDE - BRITANNIA" (USA, 1918)


James Montgomery Flagg
Side-by-Side - Britannia (1918)

James Montgomery Flagg's poster, "Side-by-Side - Britannia" is unusual because it depicts Uncle Sam and Britannia arm in arm immediately after the ending of WW1. It was done for a public meeting so Americans could congratulate the British Empire on "winning" the war against the German Empire. Note that Sam and Britannia are standing on a small rock in the middle of the ocean (which was dominated by the victorious British Navy); Britannia is wearing a Roman helmet and holding a trident pointing upwards, while Uncle Sam is wearing some striking striped red trousers and has his sword pointing downwards ; the British lion is striding towards the viewer and the American eagle is flapping its wings perhaps in preparation for taking off. . ." David Hart

LINKS:
• World War I Propaganda Posters
• Le squelette joyeux (1895) Auguste & Louis Lumiere

---
"HELP RUSSIA" (1921) & "NEVER AGAIN" (1924)

KATHE KOLLWITZ (Germany, 1867-1945)
Left: Helft Russland - Help Russia (1921)
Poster, planographic, lithography
bottom of image: 'Komite fur Arbeiterhlfe Berlin Rosenthalvatr 38'
'Committee for aid workers Rosenthal Str 38 Berlin'

Right: Nie wieder Krieg / Never again war (1924)
Poster, planographic, lithography
Kathe-Kollwitz-Museum Berlin
Kathe Kollwitz is primarily known as a graphic artist and sculptor. An artist of strong social convictions, she spent most of her life in a working-class section of Berlin and all of her works are permeated by a strong sense of awareness of the plight of the impoverished and the oppressed. In this context, Helft Russland is characteristic of Kollwitz's powerful graphic style and clearly demonstrates her masterly draughtsmanship.




---




"Never again war" / "Nie wieder Krieg" was the motto of the mass rallies, which were held every year in early August, by the pacifist organizations on the occasion of the "anti-war day" in Germany - as a reminder of the experience of August 1914 and the beginning of the First World War . The pacifists remind during the Weimar Republic again and again of the suffering in the war and demanded disarmament and peaceful coexistence of all peoples.

The socially and politically committed artist Kathe Kollwitz supported these efforts with works in which they dealt with the horrors of war: in 1922/23, she created a series of woodcuts called "War." In 1922, she received the "International Trade Union Confederation," an order for a poster for the "Anti-War". It appeared in 1924 under the title "The survivors / war-war." For the Central German Youth of the Socialist labor movement in 1924, she created the image of a fighting woman with the admonition upraised arm, "No more war" - determined to make the words for the preservation of peace. "If I know myself participate in an international community against the war, I'm 'a warm, flowing through and satisfying feeling. . . I agree with the fact that my art has purpose. I want to work in this time when people are so helpless and in need of help," she wrote this in her diary.

Pacifism in the Weimar Republic

LINKS:
• The Graphic Works (55)
• Helft Russland
• Out with our prisoners!
Come all to the National Association for the Protection of German war and civil prisoners

---
WORLD WAR II POSTERS (1939-1945)
"WE CAN DO IT" (USA, 1943)

J. HOWARD MILLER (ca. 1915 - ca. 1990)
We Can Do It! (1943)
Photolithograph (22 x 17 inches)
Poster for War Production Coordinating Commitee
(Westinghouse)
National Archives, Washington, D.C.
"We Can Do It!" is an American wartime propaganda poster produced by J. Howard Miller in 1943 for Westinghouse Electric as an inspirational image to boost worker morale. The poster is generally thought to be based on a black-and-white wire service photograph taken of a Michigan factory worker named Geraldine Hoff.

The poster was seen very little during World War II. It was rediscovered in the early 1980s and widely reproduced in many forms, often called "We Can Do It!" but also called "Rosie the Riveter" after the iconic figure of a strong female war production worker. The "We Can Do It!" image was used to promote feminism and other political issues beginning in the 1980s.
"LOOSE LIPS MIGHT SINK SHIPS" (USA, circa 1941?)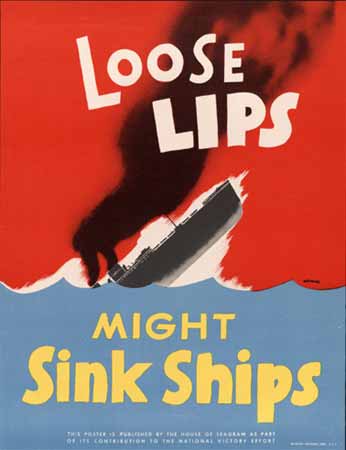 Loose Lips might Sink Ships (1941-1945?)
created by Essargee (pseudonym for Seymour R. Goff)
published by the House of Seagram
Workplace Posters in the United States
"THIS IS NAZI BUTALITY" (USA, 1942)

BEN SHAHN (Lithuanian/American 1898 - 1969)
This Is Nazi Brutality, photo-offset in colors, (1942)
At the home front, the painter and part-time photographer Ben Shahn worked for the Office of War Information in 1942, creating paintings that were intended to help the war effort. In the 1930s, Shahn had experimented with photography and painting, translating his New York-photographs into meticulously crafted word-image-combinations. For his OWI-paintings, Shahn moved beyond the intermediality of these earlier experiments. In "This Is Nazi Brutality" from 1942, he juxtaposed and combined three different layers of media communication: the radio telegram recalling the official announcement from Berlin about the destruction of Lidice, the explicatory sentence "This is Nazi brutality" pointing out the dominant meaning of the war poster, and, finally, the painting of a hooded, handcuffed, and imprisoned figure.

By creating this hybrid combination of image and text, Shahn produced war propaganda, but he also reflected upon the act of creating it. Although the poster stems from the Office of War Information, the viewer senses a desire to subvert all kinds of official announcements and a desire to contrast them with more immediate and powerful images of suffering. The Nazi telegram is framed by its American designation as an exemplary case of brutality. What becomes most striking in the painting is the enormous human figure, looming both over the telegram and its commentary. Clenched fists signify attempts at resistance, while the dark suit and white shirt add the connotation of the man's belonging to the class of intellectuals. This is one of the men mentioned in the telegram, about to be shot inside the prison walls. However, the crucial part of his body capable of creating the most powerful effect of empathy is not visible: his face. An enormous, elaborately painted hood dominates the upper third of the painting and covers his head. It leaves the man's strong hands as the only visible marker of bodily agitation.

Thus, in Ben Shahn's case, too, emulating and mixing different forms of media communication triggers a reflection on the invisible. By covering the man's face, Shahn resisted the temptation of presenting him as an easily identifiable victim. Rather, he stressed the invisible and unknowable quality of the traumatic experience alluded to in the telegram, and evaluated as an act of brutality in the telegram's framing. The most effective visual reference of the verbal signifier "brutality' is withheld as the suffering face remains hidden. Shahn's painting, at first glance a straightforward indictment of Nazi brutality, reveals itself to be not just a reflection on the invisible, but also on the difficulties of creating propaganda for a democratic culture committed to a strong notion of individualism. Shahn worked for less than a year for the Office of War Information. Frances Pohl suggests that he was pursuing a different notion of propaganda which was ultimately incompatible with the official line: "Most of Shahn's paintings were being rejected by OWI officials because they were too 'violent' or not 'appealing enough'"

Painting, Photography, and World-War II
The double-movement of representational scepticism and aesthetic complexity can be found in painting and film. The first example, Ben Shahn's 1942 painting "This Is Nazi Brutality" is related to Hemingway's atrocity discourse in his story "Soldier's Home" and addresses the question of using traumatic events for the purposes of propaganda. The second example, Paul Haggis' film In the Valley of Elah (2007) continues, in technologically advanced form, the discourse of a wound culture. . . . Shahn's painting may be seen as belonging to a unique American tradition of trauma narratives related to the experience of war, yet his work, in particular, was also engaging with transnational Modernist movements in photography, collage artworks, and painting. In the European context, Dada artists, such as George Grosz and John Heartfield, developed elaborate forms of caricature and photomontage addressing the experience of the First World War, as well as the atmosphere of violence in the Weimar Republic and the early Nazi regime. In the United States too, hybrid combinations of image and text proliferated in New Deal related art programs - Shahn worked as a photographer for the Farm Security Administration along with Dorothea Lange and Walker Evans - but also in magazines such as Life or Time.

Trauma Narratives
"BUY WAR BONDS" (USA, 1942)
"DO WITH LESS . . ." (USA, 1943)

Do With Less, So They'll Have Enough!
Rationing Fives You Your Fair Share (1943)
Office of War Information (OWI Poster No. 37
U.S. Government Printing Office, Washington, D.C.



"Thomas Murray would do his part to win WWII by being the poster boy for rationing. During the war, Americans had to use ration stamps to buy all manner of goods that were in short supply, because these goods were needed for the war effort. Coffee, butter, rubber, and many other staples were hard to come by. The US used poster campaigns to put a face on the soldier who was fighting for the country and who needed these goods, as a way to encourage Americans to make sacrifices and tolerate rationing. This iconic photograph of Murray smiling to the camera and holding a military cup of "Joe" was one of the most popular "support rationing" posters of the war effort. Murray died in 2002 at the age of 87 and was buried with full military honors."

P.S. a modified version of the poster - "How about a nice cup of shut the fuck up" - gained popularity on the Internet but caused Murray's family to be unhappy with the new version.

left: Of Couse I Can (1944) by Dick Williams. right: Free Labor Will Win (1942)
"TALK LESS - YOU NEVER KNOW" (UK, circa 1940)

Talk Less - You Never Know (UK, circa 1940)
"THE STANDARD BEARER" (Germany, circa 1935)

Der Bannertrager ("The Standard Bearer") circa 1935
artist: Hubert Lanzinger
Hubert Lanzinger's portrait - "Der Bannertrager" - depicts Hitler as a messianic figure gazing toward a better future for Germany, with the Nazi flag billowing behind him. Austrian-born artist Lanzinger (1880-1950) painted this work in oils on a wood panel. It was first displayed at the Great German Art Exhibition in Munich in 1937. Some say that Hitler himself picked this image after being dismayed by the other selected artwork. Heinrich Hoffmann, Hitler's official photographer and an exhibition judge, had the image made into a postcard around 1938. After the war, a U.S. soldier pierced the painting with a bayonet. It was then transferred to the U.S. Army Art Collection, German War Art Collection, where it remains to this day."
SELECTED NAZI GERMANY POSTERS (Germany)

LEFT: The German student, (1936), Kunstbibliathek
RIGHT: Students - Be the Fuhrer's propagandists (nd)
Library of Congress Prints and Photographs, Washington, D.C.

LEFT: Behind the enemy powers: the Jews, (nd)
Nazi propaganda poster portraying stereotyped Jew conspirator
USHMM Collection, Gift of Helmut Eschwege
RIGHT: Nuremberg - Guilty! (circa 1945-46)
poster for Allied authorities in Germany after the war
emphasizing the criminal nature of the Nazi regime.
USHMM Collection, The Abraham and Ruth Goldfarb Family
"KEEP YOUR MOUTH SHUT" (Soviet Union, 1930)

Keep your mouth shut (1941) by Nina Vatolina
Poem by Soviet poet Samuil Marshak:
Keep your eye open.
These days,
Even the walls have ears.
Chatter and gossip
Go hand in hand with
Treason.

Death to The German Fascist Invaders (1943)
"TOTAL DESTRUCTION OF FASCISM" (Mexico, nd)

VICTORY!, (Mexico, nd)
Artists Popular Graphics Workshop
we joint the jubilation of all workers and progressive men
of Mexico and the world by the glorious triumph of the
Red Army and weapons of all UN Nazi Germany, as the
most important step to the
TOTAL DESTRUCTION OF FASCISM
SELECTED LINKS

GENERAL:
• Boche: origin of a racial slur

BRITIAN:
• You Never Know British WWII poster

USA:
• The National WW II Museum
• National Archives: Powers of Persuasion
• Any Bonds Today song (.wav)
• Bugs Bunny movie for Buy Bonds (.mov)
• Man the Guns!
• It's A Woman's War Too!
• United We Win
• Four Freedoms (Norman Roackwell)
• This is Nazi Brutality
• He's Watching You
• Stamp 'Em Out!
• Workplace Posters in the United States
• defense industry:
• Production. . . America's answer (1942)
• United We Win (1943)
• They'll Let Us know When to Quit! (1941-1945?)
• patriotism
• We'll Take Care of the Rising Sun (1942?)
• Help RCA Help USA (1942?)
• Give it Your Best! (1942)
• safety
• war posters
• Free Labor Will Win (1942)
• Sink A Sub from Your Farm (1941-1945?)
• I Need Your Skill In A War Job! (1943), James Montgomery Flagg
• Loose Lips Might Sink Ships (194`-1945?), Essargee
• Of Couse I Can (1944), Dick Williams
•

GERMANY:
• Posters from Nazi Germany
• United States Holocaust Memorial Museum
• Propaganda:
• Der Bannertrager
• Students/Be the Fuhrer's propagandists
• Early Nazi campaign poster by Mjohnir
• The German student
• The Eternal Jew
• Poster promoting German railway
• Youth Serves the Leader
• Behind the enemy powers: the Jews
• Nuremberg / Guilty
• Nazi History Painting

OTHER COUNTRIES:
•
•

---
"BLACK POWER - WHITE POWER" (1967)

TOMI UNGERER (France, b. 1931)
Black Power, White Power (1967)

poster

If Toulouse-Lautrec had been a Twentieth Century man with a taste for politics, his work would doubtless have resembled that of Tomi Ungerer, a brilliant illustrator and graphic designer who levels his sure hand and distaste for hypocrisy at some of the major American issues of the late 1960s. "Black Power/White Power" is arguably the ultimate statement on U.S. race relations, then and now. "Acerbic criticism of foundering social values requires explicitness . . . Ungerer meets the requirements . . . with a savagely frontal image"

Ungerer explains his incisive view of racial situations: "I'm just a spectator," he says of his work, "and I draw what I see and make my comments. Some of my books are nice, some are aggressive and despairing. We have all of these elements in us and I use all of them." From the heart of the civil rights movement, he ironically depicts the gulf between activists as each devours the other.

Posters American Style: Advice to Americans

LINKS:
• Tomi Ungerer, A Childhood Under the Nazi
•
•


---
"VIETNAM SUMMER" (1967)

SIGMUND MORTON ABELES (USA, b. 1934)
25x16 3/4 inches, poster
Numbered, edition of 100, signed by the artist in pencil.
From a limited edition issued by the artist after the poster. Gallo p. 287
Copyright © 2013 collection of Scattergood-Moore
LINKS:
• more on sigmund abeles
•

---
"McCARTHY - PEACE" (1968)

BEN SHAHN (1898–1969)
McCathy - Peace (1968)
offset lithograph, (25 x 38 inches)
---
"YOU HAVE NOT CONVERTED A MAN . . ." (1968)

BEN SHAHN (1898–1969)
Container Corporation of America
You Have Not Converted a Man
Because You have Silenced Him (1968)
offset lithograph 114.2 x 76.2 cm (45 x 30 in.)
Smithsonian American Art Museum
Gift of the Container Corporation of America
© 1998 Estate of Ben Shahn/Licensed by VAGA, New York, N.Y.
In this poster, Shahn brings his distinctive style of creating a figure with black crayon line into balance with his extensive interest in lettering and typography. It was produced as part of the "Great Ideas of Western Man" series issued by the Container Corporation of America. Here Shahn illustrates a quotation from John Viscount Morley, an English Member of Parliament and Secretary of State of India. This poster joins an artist known for his liberal views with a politician remembered as an outspoken pacifist.

Posters American Style: Advice to Americans

LINKS:
• see information above. . .
• Gandi poster
•
•

---
THE GRAPHIC WORKSHOP

(founder: FELICE REGAN (b. 1948)
• PANDA (1982-83)

Panda (1982-83)
Artist: Felice Regan
Title: Panda
Type: Paster Art Print
Printing: serigraph on paper
• Endangered - Polar Bear (1984)

Endangered - Polar Bear (1984)
Design firm and Printer: The Graphic Workshop
Designer and Lettering: Agusta Agustsson
Medium: serigraph on paper; Size: 29 x 39 inches
AIGA Design Archives
• Endangered Cuban Crocodile (1987)

Endangered Cuban Crocodile (1987)
Serigraph on paper (22 1/2 x 36 1/4 inches)
Design firm: The Graphic Workshop
Art director, Artist & Publisher: Judy Kensley McKie
Printer: Orange Line Press, New Jersey
IGA Design Archives
The Cuban Crocodile (Crocodylus rhombifer) is a small species (2.4 meters - 8 feet- average length) of crocodile found only in Cuba's Zapata Swamp and the Isle of Youth, and is highly endangered. This species has numerous interesting characteristics that set it apart from other crocodilians, such as its brighter adult colors, rougher, more 'pebbled' scales, and long, strong legs. This species is the most terrestrial of crocodiles, and also possibly the most intelligent.
• "Endangered - The Kangaroo (no date)

Endangered - The Kangaroo (nd)
Artist: Felice Regan
Title: Endangered - The Kangaroo
Size: 62.5 x 79.0 cm
Type: Poster Art Print
Printing: Silkscreen
Felice Regan (American, b. 1948) has had a long love affair with art and nature, which began in 1970 when she started producing photographic silk screen images of animals at the Franklin Park Zoo outside of Boston. That same year, Regan received her B.F.A. degree from the Massachusetts College of Art and promptly founded the Graphic Workshop, an artists' collaborative.

. . . In 1975, the Graphic Workshop got their first big break designing posters for the World Society for the Protection of Animals. Even after the project fell through, Regan decided to proceed anyway, creating what became known as the "Endangered Species" Series. The series, which has become a trademark of the workshop, led Regan and her colleagues to produce some of their best-known works.

Smithsonian American Art Museum


THE GRAPHIC WORKSHOP, BOSTON
left: Endangered - Rain Forest
right: Endangered - Rain Forest Frogs
Silkscreen posters
images copyright © 2013 The Graphic Workshop

LINKS:
• American Art: Felice Regan
• Giant Panda, 1982-83, serigraph on paper (image)
• Panda
• Taylor's Design: Endangered Panda
• The Graphic Imperative
• ISSUU - Advocacy Poster by Samuel Willger
•
•


---
SELECTED SMALL ACTIVIST PRESSES
• RED SUN PRESS (USA, 1973-)

RED SUN PRESS (USA)
poster for "Red Sun Press" (nd)
image copyright © 2013 Red Sun Press

RED SUN PRESS (USA)
Nelson Mandela (1990) by Kim Berman
for 'Fund for a Free South Africa'
image copyright © 2013 Kim Berman
"Red Sun Press is a cooperatively-managed printing and graphic design shop in Jamaica Plain, a diverse and burgeoning neighborhood in Boston, MA. We have a small plant with fully equipped offset presses, electronic design and pre-press capabilities, digital copy and bindery departments, and a growing customer base of non-profit organizations, socially responsible businesses and government agencies.

In 1973, Red Sun was founded with $350 and a small press in a Cambridge, MA basement. The founders, who were active in the civil rights, anti-war, environmental and women's movements, envisioned a full service print shop that would support the movement for political and social change.

The faces have changed, but the mission remains the same, and our staff reflects the diversity of the community we serve."

Meet Red Sun Press Printing for Peace and Justice

LINKS:
• Red Sun Press Jamaica Plain, MA
Progressive posters printed at Red Sun
•


---
IGNORANCE = FEAR SILENCE = DEATH (1989)

KEITH HARING (1958 - 1990)
Ignorance = Fear Silence = Death (1989)
Poster for "Act Up" (Fight AIDS)
image copyright © 2013 Keith Haring
---
OBAMA - HOPE (2008)

SHEPARD FAIREY (American, b. 1970)
Obama - Hope (2008)
image copyright © 2013 Shepard Fairey
Poster for 2008 Obama presidential campaign
"PROGRESS", "HOPE", or "CHANGE" below image
"With his roots in the skateboarding scene, South Carolina-born graphic designer and illustrator Shepard Fairey built a name for himself with his 'Andre the Giant' guerrilla sticker campaigns - but it was his involvement in the 2008 US Presidential election that really catapulted him towards global recognition.

Fairey's now-iconic Barack Obama 'Hope' poster, featuring a four-color portrait of the then-Senator in red, beige, light and dark blue, also came in 'Change' and 'Progress' varieties, and was created in a day. Having started life as a screen-printed poster (which sold out almost immediately), the design spread virally across the United States and the rest of the world as a symbol of what American politics could potentially become.

The revelation the following year that Fairey had based the design on a photograph by Associated Press photographer Mannie Garcia without permission - and later admitted to destroying evidence in the ensuing legal battle with AP - led to a community service and a hefty fine. Amongst designers, it's now as much a symbol of copyright infringement as it is a piece of political iconography. But whatever the circumstances of its creation, its influence during the election campaign was enormous."

LINKS:
• OBEY GIANT - Worldwide Propaganda Delivery
• Shepard Fairey / Obey
• Noam Chomsky
• This is Your God - Castro Money
• Wikipedia
•

---
ABRAHAM OBAMA (2008)

RON ENGLISH (American, 1966)
Abraham Obama" (2008)
image copyright © 2013 Ron English

RON ENGLISH (American, 1966)
Ron English's "Abraham Obama" (July 2008)
English pasted up 11 13-foot-tall reproductions of his painting Abraham Obama
which merges the features of President Lincoln with Barack Obama's.
Each poster had a different color; that created a rainbow of variations.
Part of an exhibition at Gallery XIV , Boston, titled "a politic" show."
The Phoenix, Boston review
LINKS:
• Ron English's PoPaganda
• Ron English's Abraham Obama
• Shockblast: Ron English
•

POSTERS by RON ENGLISH:
• Abraham Obama Spectrum Rainbow
• BostonObama
•


---
REBEL - PAUL BOGLE JAMAICAN FREEDOM FIGHTER 1820-1865 (2010)

MICHAEL THOMPSON (nd)
REVEL (2010)
Paul Bogle Jamaican Freedom Fighter 1820 - 1865
image copyright © 2013 Michael Thompson
About Michael Thompson aka FREESTYLEE: Artist Without Borders, Graphic Design Consultant, Creative Activist and Poster Designer http://www.freestylee.net/

Biography
Michael Thompson aka FREESTYLEE: Artist Without Borders, is a Graphic Design Consultant, Creative Activist and Poster Designer. Studied Graphic Design at the Jamaica School of Art in Kingston, Jamaica. He has participated in numerous awareness campaigns for organizations such as Code Pink, Gaza Freedom March, Living History Forum of Stockholm Sweden, and Face Africa clean water efforts in Africa. He also consulted on design projects for the National Urban League.

Michael Thompson is also the founder of the First International Reggae Poster (www.reggaepostercontest.com).

His current exhibition, "Freestylee: Artist Without Borders" organized with curator David Thomas is presented July 16 through September 2012 at the Drum Arts Center in Birmingham UK. Michael participated in a previous exhibition, "Edna Manley's Bogle a Contest of Icons, 2010" curated by Executive Director Veerle Poupeye of the National Gallery of Jamaica, the oldest and largest public art gallery in the Anglophone Caribbean. His works has also successfully traveled through Europe with the "Reggae Movement Exhibition:" telling the story of the Reggae Sound System's journey from Kingston, Jamaica to Europe (2011). Feature articles about Michael have appeared in international magazines, Riddim, Samuel, Irie Up, Page, and Arise. Recently his posters have appeared on the streets of the Arab Spring.

Current address: 827 Eden Terrace, Easton, PA, 18042, USA

Facebook Freestylee - Artist Without Borders

LINKS:
• The Artist Without Borders
• Freestylee - Artist Without Borders
•

POSTERS by MICHAEL THOMPSON

• Egypt Revolution (2011)
• Paul Bogle, REBEL
• Reforme
• more Thompson posters at flickr
•


---
GENERAL STRIKE (2011)

ERIC DROOKER (American, b. 1958)
General Strike 2011
Poster for IWW (Industrial Workers of the World) Strike
image copyright © 2013 Eric Drooker
March 7, 2011: "Just about 2 weeks ago, we received a phone call from the Industrial Workers of the World (IWW) for our artist, Eric Drooker, to design and illustrate the poster for the General Strike of 2011. Without going into the issues in depth, the Governor, Scott Walker of Wisconsin has proposed a bill, which will, if passed, strip Unions of the right to negotiate contracts collectively for their members. It will have potentially devastating effects for all public service employees in Wisconsin (and other states if other governors propose such bills for their states.) Drooker enthusiastically accepted the project pro bono and now his image is being displayed on the I.W.W. website internationally in 3 languages as well as being used by protesters all over the U.S. (and perhaps the world?)"

Richard Solomon Artists Representative

LINKS:
• The Art of Eric Drooker
• Wikipedia
• Justseeds: Be prepared for the General Strike . . .
•

---
SAVE LIFE ON EARTH


anti-nuclear group founded in 1982 at 144 Moody Street, Waltham, MA, USA

SAVE LIFE ON EARTH
Artists for Survival
Printed at Red Sun Press (print shop)
offset lithograph on paper
22.5 in high x 17.5 in wide
source: OMCA collections: work on paper
Poster has a green background and a thin white border overall. Center of poster has a large white circle. Top of poster has the text: "Save Life". Bottom of poster has the text: "On Earth / Support the Nuclear Freeze Now / 'Artists For Survival' / Boston area".

Press on titles (in bold font) to enlarge. . .

left: Madeleine Evans, untitled, (nd) silkscreen
right: Elizabeth Cavicchi, untitled, (nd) oil stick
'And there will be distress of nations in perplexity
at the roaring of the Seas and Waves' Luke 22:25
Look UP! Raise Your Heads!



left: Jim Ann Howard, untitled, (nd), collage & mixed media
right: Vivian Berman, untitled, (nd), intaglio print



D.H.S. ADVANCED SILKSCREEN WORKSHOP
(instructor of workshop: Scattergood-Moore)
left: Rena Oygioibua, Feed the Children, (1985) photo-silkscreen
right: Patrica Olshan, Tears for Fears, (1985) silkscreen

SCATTERGOOD-MOORE
Save Life On Earth
gas mask on poster with additional paint and collage
Private collection, Brandis University, Waltham, MA

• Swarthmore College Peace Collection
• Suport the Nuclear Freeze NOW (nd) Jean Unger
• Save Life on Earth (nd) no name
• Save Life on Earth (nd) Doffy Arnold
• Save Life on Earth (nd) J. Brennan
• Oakland Museum of CA:
• Save Life on Earth, (nd)
• Peace Now (1970) screen print
• America is a Democracy Only as Long. . .
Kamakazi Design Group (1970) offest lithograph
• Is Your Education Worth it? (1969) silkscreen
• We are rags and patches. . . (c.1972) Boston Women's Graphic Collective
• untitled (road signs) (c.1968) Sister Mary Corita, silkscreen
• Survival! 2nd american artists congress (1975) Virgina J. Mason
• March to Protest. . ., (1979) Tia Cross, Red Sun Press Jamacia Plain, MA
• Boston Mar. 5, 1770: Kent State May 4, 1970 (1970)
SBS Creative Designs, offset lithograph
•

Edna Kamen, untitled, (1986) oil crayons
image copyright © 2013 Edna Kamen
• ARTISTS FOR MIDEAST PEACE

Suzanne Hodes (nd) peace bottom
image copyright © 2013 Suzanne Hoses


Artists for Mideast Peace
Artists for Mideast Peace was founded in 1983 by Jewish, Arab, and other artists in Mass. We use a white centered poster, bordered with Shalom:al-Salam:Peace in Hebrew/English/Arabic calligraphy, done by Prof. Roy Brown of Mass. College of Art, and Palestinian-American musician Sybil Totah Belmont. Our posters and buttons have been used by dozens of groups at scores of events, including Seeds of Peace at the 1994 White House lawn Peres/Arafat/Clinton/Rabin ceremony. Their paintings were then exhibited at the U.S. Capitol under the auspices of the late Rep. Tom Lantos.


MITCH KAMEN
Whither Thou Goest (2002) enamel on copper
image copyright © 2013 Mitch Kamen

The original button, from a poster painted by a nine year old boy, Justin Finn, in Mass., depicts two figures, Israeli and Palestinian, holding their flags together in a gesture of friendship and peace. Introduced to Israel/Palestine through Women in Black and Women Go for Peace, it technically legalized the image when then P.M. Shamir had three Jerusalem City Council members hauled off to the Police for wearing a "terrorist" symbol; they officially declared it a legal "peace button".

Mitch Kamen (Artists for Mideast Peace)

LINKS:
• The Palestine Poster Project Archives
• Social Justice Posters
• Middle East Peace Quilt
• Why Activist Posters are Here to Stay
• Art for a Change
• Posters with a Message
• Waltham Mills Artists Association
• WMAA Weekly Figure Drawing
• Mitch Kamen: Lost and Found, enamel on copper

SELECTED POSTERS:
• Joseph Woolfolk, Basrah to Baghdad
•

---
"REVOLUTIONARY" & "PROPAGANDA" POSTERS

SOVIET SOVIET PROPAGANDA POSTER (USSR, 1931)
Have you enlisted in the army? (nd)
(support for the Russian Revolution)
poster designed by Dmitry Moor
image copyright © 2013 Dmitry Moor
"Soviet propaganda posters first appeared following the success of the Russian Revolution. They were used to promote the revolution, stir optimism for a new society (one that stood for literacy and improvement of health care) and to attack opponents of Lenin's government. Very few newspapers were published during the time and therefore the posters served as a primary means of communication. During the Russian Revolution, the posters were sent to the front lines of Communist opposition cities with the warning that "anyone who tears down or covers up this poster is committing a counter-revolutionary act."

With Stalin in charge by the 1930s, the posters began to focus more on political discipline and ambitious government programs, particularly the collectivization of land and establishment of industry. Subsequently, many produced powerful and dynamic posters with bright colors and distinct shapes. However, these were later replaced with more lifelike images. The red star – the Soviet Red Army's symbol - was also ubiquitous, as was the hammer and sickle. The posters were used throughout World War 2 for a panoply of reasons: to promote the Russian cause, convince people to enlist and to boost citizen morale."

SOVIET PROPAGANDA POSTER (USSR, 1924)
Electrification by Samokhvalov
image copyright © 2013 Samokhvalov

SOVIET PROPAGANDA POSTER (USSR, 1931)
Construct A Fleet of Airships in the Name of Lenin

SOVIET PROPAGANDA POSTER (USSR, nd)
Live the Leninist-Stalinist Communist Youth League
Chief of they Navy of the USSR!

CULTURAL REVOLUTION POSTER (China)
Mao Tse Tung

CULTURAL REVOLUTION POSTER (China, c. 1967)
"Destroy the old world; build a new world"
Red Guard crushes crucifix, Buddha and classical Chinese books

NORTH KOREN PROPAGANDA POSTER (April 26, 2010)
Kim Jon II

Jornada de Solidaridad (1969)
"Day of Solidarity with the People of Palestine"
created by Faustino Perez (Cuban)
languages: Arabic, English, French & Spanish
published by OSPAAAL
image copyright © 2013 Faustino Perez
SELECTED LINKS

GENERAL RESOURCES:
• Unconstrained Consequences
• Cantor Center: 'Revolutionary Tides:
Art of Political Posters, 1914-1989

RUSSIA - USSR:
• Soviet Political Posters
• Soviet Propaganda Posters Dieselpunks
• Amazing Soviet Propaganda Posters
• Long Live Our Glorious Motherland!

CHINA:
• Comrade Mao Zedong is the greatest Marxist-Leninist
of the present age - Chinese propaganda poster (1969)
• Cultural Revolution Wikipedia

NORTH KOREA:
• North Korean propaganda posters
• propaganda poster in Wonsan area
• DPRK / North Korea
• President Kim II Sung Eternal Sun
• Kim Jong II and Kim II Sung and the kids
• North Korean Propaganda Posters ABC News

MIDDLE EAST:
• The Palestine Poster Project
• Organization of Solidarity with the Peoples
of Africa, Asia and Latin America
•

OTHER:
•

---
POLISH POSTERS

TOMASZ SARNECK (Poland, b.)
Solidarity (1989) Polish poster
image copyright © 2013 Tomasz Sarneck

MIECZYSLAW GOROWSKI (Poland)
policja police (1982) Polish poster
image copyright © 2013 Mieczyslaw Gorowski
Freedom on the Fence, a film by Andrea Marks, is a documentary film about the history of Polish posters and their significance to the social, political and cultural life of Poland. The film examines the period from WWII through the fall of Communism, and captures the paradox of how this unique art form flourished within a Communist regime.

The documentary contains interviews with older and younger generations of poster artists, examples of past and current poster work, historic and current film footage of where and how the poster is viewed, and commentaries from both American and Polish scholars and artists on the significance of the Polish poster as a cultural icon.



FREEDOM ON THE FENCE (Polish posters)
• A Brief History
• Artist Biographies
• Roman Cieslewicz
• Stasys Eidrigevicius
• Wiktor Gorka
• Mieczyslaw Gorowski
• policja / police (1982)
• Tomasz Sarnecki
• solidarity (1989)
• etc., etc. . .
• A note from producer Andrea Marks
• Related Links

---
ADDITIONAL POSTERS

JIM FITZPATRICK "Che" (1968)
based on original photograph by Alberto Korda
image copyright © 2013 Jim Fitzpatrick
During the 1968 Paris student riots and for years to come, Jim Fitzpatrick's stylized poster of Marxist revolutionary Che Guevara became a common youthful symbol of rebellion.

Dolk - The Giant: The Definitive Obey Giant Site

In 1967 when Che died in Bolivia jungles, Feltrinelli took the original photo of Alberto Korda, gave a refilada the sides and had run millions of posters with the face of the pop star. Won some money, but helped canonize Che Guevara with public opinion. Neither Fidel nor Alberto Korda never found bad, so much so that even Fidel handed Feltrinelli the original Diary of Bolivia, posthumous Che Guevara who also rocked the bookstores in the world.

But it was still a pittance in terms of success. The following year an Irish artist named Jim Fitzpatrick took the photo of Korda, cut by Feltrinelli and sent to see a red and black monotype lindona and put the work into the public domain, to be used for releasing freely by anyone without any cost in love. Then the image of the guerrilla rocked once, the figure of Che began to play wildly in all parts of the world and all that is product type. The shirts were just the beginning. . .

Ché Guevara, Day of the Heroic Guerrilla (1968 or 1982)
poster created by Helena Serrano
OSPAAAL posters
image copyright © 2013 Helena Serrano

MARK VALLEN &nbsp (USA, 1953)
ENOUGH! (nd)
"Demonstrate Against War in Central America
No Aid for Contra Terror"
image copyright © 2013 Mark Vallen

MARK VALLEN &nbsp (USA, 1953)
Free South Africa (1985) offset poster
image copyright © 2013 Mark Vallen
Art for a Change
Vallen's 1985 poster played a historic role in the movement to liberate South Africa from white racist rule. The print was eventually included in The Path of Resistance, an exhibition of contemporary protest art held at New York City's Museum of Modern Art in 2000.

I created this poster in 1985 to support the freedom struggle of the South African people, who were living under a brutally racist white minority regime. Used at anti-apartheid rallies, student occupations of universities, and protests in front of South African embassies all across the US - thousands of these posters were given away, sold, and wheat-pasted on city streets.

In 1985 the administration of Ronald Reagan was openly supporting the apartheid regime in South Africa. Nelson Mandela was in prison and regarded as a 'terrorist' by US policy makers. It's worth noting that US Vice President, Dick Cheney, was in fact at the time opposed to the release of Mandela in the 1980's. However, people all over the world were supporting Mandela's African National Congress (ANC) and the movement for a free and democratic South Africa. I was naturally overjoyed with the eventual liberation of Mandela, the total defeat of the criminal racist regime, and the victory of the South African freedom struggle. - Artist's statement

So Long As Women Are Not Free. . . (nd)
silkscreen on paper; printed by "See Red" London UK
2013 © collection of Scattergood-Moore

John Lennon: People for Peace (nd)

Woodie Guthrie Quote (nd)
silkscreen on paper
from the (now closed) Northland Poster Collective
design by Ricardo Levins Morales
silkscreen on paper
image copyright © 2013 Ricardo Levins Morales
2013 © collection of Scattergood-Moore

GUERRILLA GIRLS
fighting discrimination with facts, humor and fake fur
image copyright © 2013 Guerrilla Girls

ENLARGE
22" x 17" poster, black in on orange paper
poster design: Virginia J. Mason
2013 © collection of Scattergood-Moore

BOSTON VISUAL ARTISTS UNION

2nd American Artists Congress poster (1975)
22" x 17" poster, black ink on silver background

Signers of the American Artists' Congress, 1936 and 1941

Archives of American Art: BVAU Papers: 1970-1979

"Artists in Exile" Mural on Boston Commons
image copyright © 2013 Scattergood-Moore
---
SELECTED POSTER LINKS:
• 10 designs that rocked the world
• Viva la revolution!
• WWWI Propaganda Posters
•
•
•
•

SOCIAL GRAPHIC LINKS:
• Inspiring Political/Humanist Artworks
• Inspiring Political/Humanist Artworks
• Graphic Witness
Visual Arts & Social Commentary
• I Like It!. . . But Is It Comics?
• I Like It!. . . But Is It Comics?
• When The Left Held Sway in the US of A
• Rene Wanner's Poster Page
• Links to posters on flickr
• The Graphic Imperative exhibition in Boston
• Feminism and Graphic Design
• Free Radicals: See Red (c.1978)
•


OTHER GRAPHIC ARTISTS: under development
•

GRAPHIC WITNESS is a website dedicated to social commentary through graphic imagery by artists working from the turn of the 20th Century to the present, with related bibliographic and biographic data. Comments, corrections and any other contradictions are welcomed. Links to other related sites are provided and frequently updated."

". . . As the survivors of historical traumas pass on, the lasting resonance of their experiences will depend on whether younger generations can understand and recognize them. Such recognition will challenge subsequent generations to discover new connections across historical events and to maintain distinctions among them. To be grounded in individual experience, and to recognize common ground in the historical experience of others. . ." - THE LEGACY PROJECT
---

© Copyright: The presentation of these low resolution jpg files add more than words alone could impart. It is believed that this is fair use and does not infringe copyright. According to section 107 of the United States Copyright Act of 1976: The fair use of a copyrighted work. . . for purposes such as criticism, comment, news reporting, teaching, scholarship, or research, is not an infringement of copyright. The images are used for non-profit purposes. This factor is noted as relevant by the Act.